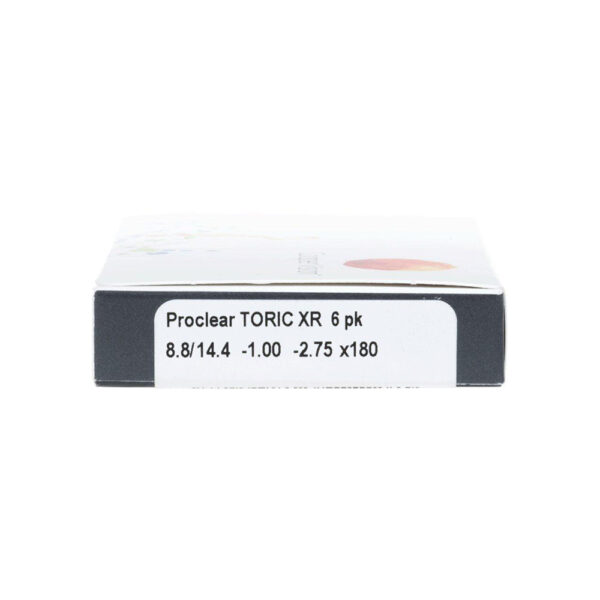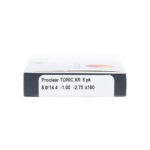 Description
Proclear Toric XR For Optimum Vision & Comfort
If you have astigmatism, Proclear Toric XR soft contact lenses let you enjoy a level of comfort unrivaled by any other soft toric lens—a difference you'll especially notice the longer you wear your lenses throughout the day. This exceptional level of comfort is made possible by PC Technology™, which creates a unique material containing molecules of phosphorylcholine (PC), a substance found naturally in human cell membranes. These molecules attract and surround themselves with water, keeping Proclear Toric lenses moist and comfortable, even after 12 hours of wear. For those with a high level of astigmatism, you can still enjoy the benefits of Proclear Toric with the extended (XR) range of powers.
What is Proclear Toric XR?
Proclear Toric XR is a lens solution with an extended parameter range developed for people with a higher degree of astigmatism. These lenses provide a high level of visual comfort as they are made with PC TechnologyTM.
Who should wear the Proclear Toric XR?
Proclear Toric XR lenses are suitable for people who have previously suffered from dry eyes, want to improve comfort and protection with visual correction, and have higher astigmatism.
What are the Benefits of Proclear Toric XR?
Suitable for high levels of astigmatism
Exceptional comfort with PC Technology™
Long-lasting moisture for up to 12 hours of wear
Clear, sharp vision with reduced blurring and distortion
Available in a wide range of powers to suit individual needs.
What are Warning Signs & Precautions Associated with Proclear Toric XR?
If you suffer eye irritation, excessive weeping, visual problems, or redness, avoid using these lenses.
Do not wear lenses overnight or for extended periods of time without the approval of your eye care specialist.
Use correct cleaning and storing practices to avoid contamination or infection.
Avoid exposing your lenses to water, such as swimming or bathing while wearing them.
If you have any questions or concerns about the usage of these lenses, speak with your eye care provider.
Details
LENS TYPE : Monthly replacement disposable soft contact lenses
PACKAGE DETAILS : 6 daily wear tinted soft contact lenses in buffered 0.9% saline
MATERIAL AND % OF CONTENT : 38% omafilcon B
WATER % OF CONTENT : 62%
MANUFACTURER : CooperVision
Consult Dr. Antoine Copty, the best eye care specialist in Miami, for more help with your eye care needs and vision health!
---
Only logged in customers who have purchased this product may leave a review.