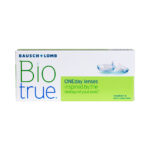 Biotrue ONEday 30pk
Description
Biotrue ONEday are the only disposable lenses made from HyperGel, a next generation, bioinspired material designed for comfortable vision throughout the day. Built to mimic the lipid layer of tear film, HyperGel has the same water content as the cornea (78%) for increased oxygen flow and incredible comfort.
Details
LENS TYPE : Daily disposable soft contact lenses
PACKAGE DETAILS : 30 contacts lenses immersed in a solution of borate buffered saline
MATERIAL AND % OF CONTENT : 22% nesofilcon A
WATER % OF CONTENT : 78%
MANUFACTURER : Bausch & Lomb
---
Only logged in customers who have purchased this product may leave a review.